In SourceLair we are doing our best in order to remove any friction from the software development process.
One of the most usual occasions of friction in software development is an unresponsive and laggy development environment, thus we decided to increase the default available RAM from 128MB to 512MB for everyone. This combined with our top-tier SSD drives and blazing-fast user interface lets our users code anywhere within a browser, without even noticing they depend on an internet connection.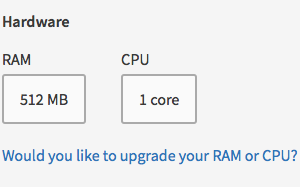 No extra action is being needed from your part. All SourceLair projects have been updated automatically to utilize 512MB of RAM.
Go now to sourcelair.com and enjoy even faster development anytime, inside your browser.